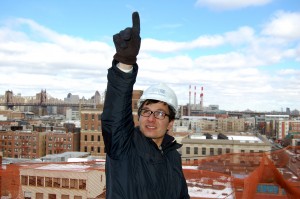 Founded in 2004, RSVP Architecture Studio PLLC is an emerging firm dedicated to a collaborative design process that explores the boundaries between architecture, art and the environment. The studio's design process is intimately connected with exploiting the qualities of a given site and an exploration of materials.
Since its inception, RSVP has completed a diverse body of work consistent with its goal of achieving quality design within all scales and sectors of our built environment. Commercial projects have included large office interiors as well as retail boutique spaces and restaurants. For residential clients, RSVP has completed interior renovations, built additions and most recently large scale new construction projects. In addition to conventional built work, RSVP has worked with a number of artists including Jean Shin, Vito Acconci, Ben Rubin, Pierre Huyghe and Jo Yarrington on large scale public art commissions. Our involvement on these projects has included everything from producing proposal images to full project management. Principal Brian Ripel has also worked collaboratively on a number of art installations with the artist Jean Shin.
RSVP's work has been published in the New York Times, Interior Design Magazine, A+U, Architect Magazine, The Architect's Newspaper, Surface Magazine, Frame and numerous other periodicals. The firm received a Best of Year Merit Award from Interior Design Magazine in 2008 for their Root Hill Café design. In partnership with Himma Architecture, RSVP was awarded a 2008 AIA Merit Award for work on Ridge House located in Aodi, Taiwan. RSVP was included in the exhibition NY/Berlin Dialogues at the Center for Architecture in New York City. Brian's work in collaboration with the artist Jean Shin has been exhibited and commissioned internationally at venues including: The Museum of Glass in Tacoma, Washington; Galerie Eric Dupont in Paris, France; Art in General in New York, NY; Smack Mellon Gallery in Brooklyn, NY; and The Dorsky Gallery in Long Island City, NY. RSVP was recently awarded a New York State Council for the Arts Independent Projects Award for 2010.
Brian Ripel – Principal
Brian Ripel, is the principal and founder of RSVP Architecture Studio. Brian is a registered architect in New York State and is certified with the National Council of Architectural Registration Boards. He received his Master of Science in Advanced Architectural Design from Columbia University and his Bachelor of Architecture from Pratt Institute.
In addition to his professional practice, Brian has taught at Vassar College and Pratt Institute where he is currently an Adjunct Professor and coordinates the Representation program in undergraduate architecture.
About the Acronym
RSVP is perhaps the first of all acronyms, the product of 19th century French petite bourgeois who needed to finalize their dinner seating but feared uttering the phrase "Repondez s'il vous plait" would offend the delicate sensibilities of their invitees by suggesting they lacked the manners to respond to an invite. It is unique in that it comes not from proper names (SOM, KPF) military jargon (AWOL, FUBAR), or technology (RAM, DOS) but rather the unlikely domain of etiquette. As an acronym now used exclusively in English, yet based upon 19th century French, RSVP has the postmodern distinction of having little to no connection with its phrase of origin, a condition perhaps only better exhibited in KFC's legal name change in order to distance themselves from all things fried. It is both familiar and foreign, polite yet demanding. Most significant to us, it is a request for dialogue; an understanding that to respond is a necessary prerequisite for all things wonderful.