The award-winning team at RSVP Studio led by Brian Ripel drew broadly on artistic, architectural, and local sources in creating East of East.
Piet Mondrian
Richard Serra
P.S. 1
Long Island City's industrial past
Learn more about Brian Ripel and RSVP Studio.
Piet Mondrian
The lines and colors of Mondrian's abstract paintings created a style so distinctive that anyone can identify them in an instant. The Dutch painter created several of his most famous works while living in New York. Hanging in New York's Museum of Modern Art is one of his most significant: Broadway Boogie Woogie from 1943.
Look at the Mondrian images at MoMA's online collection.
Richard Serra
Serra is one of the most significant artists of the 20th century, whose trademark monumental sculptures make use of a distinctive steel material known for its bright oxidized patina. The material changes with time even as its form stays strong and unmoveable.
The steel cladding of East of East is made from — not aluminum or brick or other common elements — but from Serra's choice material: Cor-Ten steel, the brand name for weathering steel used by the US Steel company.
Read more about this major artist's works at the Museum of Modern Art (where he had a major show in 2007 as East of East was being designed), at Gagosian Gallery (his gallery in New York), or at PBS.
P.S. 1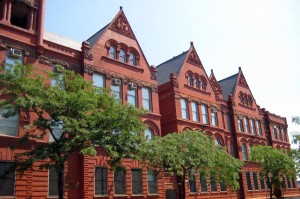 East of East responds directly to P.S.1/MoMA's sharp angles and red-colored facade. And it draws deeply from the many artists whose works have been displayed inside.
LIC's industrial past
Long Island City was long the center of manufacturing — including iron and steel works producing manhole covers and other heavy materials — in the New York area. Any history of the neighborhood inevitably connects to the role of this area, and its architectural legacy.